The Crack Hiking Trail, Killarney Provincial Park
Hike - The Crack

Access
7 km North-East of Killarney Provincial Park Main Gate and 1.5km from Carlyle Lake Access Rd.
Length
6km round trip
Time
4 hrs
Difficulty
Moderate-Difficult includes steep terrain
Caution
Involves some steep climbs and difficult sections, should feel fit and have sturdy footwear.
*This trail is NOT a loop! Upon reaching "The Crack" hikers must return along the same trail. If the trail is continued hikers will be on the 78km journey along the Silhouette Trail.
The parking lot for this hike can be quite difficult to find as there is no signage on Hwy.637. The location of the parking lot can be found on the northern side of the highway (left hand side if driving from the George Lake camground - KPP main office). It is approximately 7km east from George Lake camground and 1.5km west of Carlyle Lake Access Rd. Take a look at a map before heading out for the day!
This trip begins just off of hwy 637 on an old logging road that winds into the park for about 20 minutes and then joins with the La Cloche Silhouette trail.  The Silhouette trail remains relatively flat for another ½ hour and then starts to incline, gradually at first, then quite sharply up to "The Crack", a deep crevasse that forms walls on the sides of the trail.  Once through the crack you will be treated to one of the most beautiful views in the park.  This panoramic vista allows you to look down upon crystal blue Killarney and O.S.A. lakes.  Be sure to bring your camera to preserve the memory.
If you are hiking, be sure that you are in good shape and that you get an early start.  The trail heads toward Kakakise Lake and continues to "the Crack" passing through forested and rocky sections. Climbing "the Crack" requires concentration and effort. Large boulders broken away from the rock faces provide the "stairs" which must be negotiated to reach the ridge top. Once on the ridge the view is magnificent, overlooking inland lakes and white hills in the park and the vast coastline of Georgian Bay.
If your on a canoe trip, "The Crack"" portion the La Cloche Silhouette trail can easily be accessed from either "Killarney Lake" or Kakakise Lake"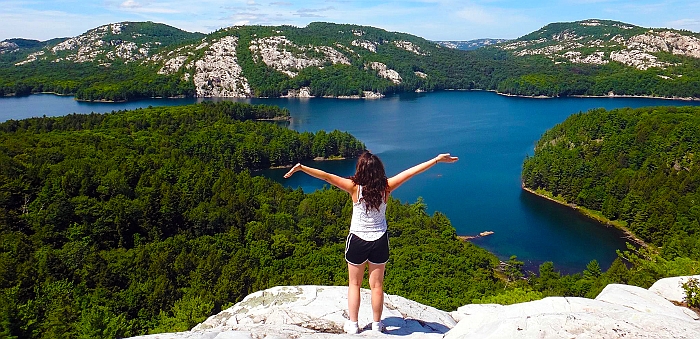 The Crack Hiking Trail, Killarney Provincial Park